Developed by Apalon Apps, My Alarm Clock is an attractive alarm app for Android. You may be thinking of why we've taken our time to write about this one. Well, it is because it stands out of the crowd. Possibly, you may have heard about the apps being powerful enough to justify their existence. But, here, there is no need of having a powerful alarm app. Few of the things make it worthy of getting it installed on your devices. And, we will see what are those and is it good enough?
The User Interface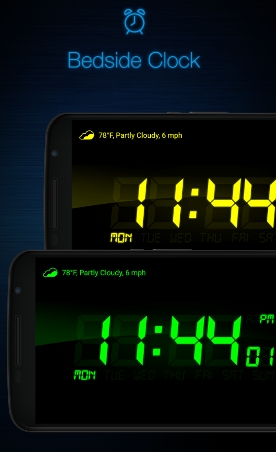 Alarm clocks are usually simple in the UI design and most of them are user-friendly. But, as we had mentioned that this one would stand out, and so it does.
The digital clock interface is crafted beautifully to enhance the user experience wherever possible. Well, some people may argue that we do not want a better interface for an alarm clock, but if you would experience the user interface here, you'll appreciate a lot. It has got a revamped stunning design for you to look at.
Price
It offers a pro version to it and a free as well. The free version includes in-app advertisements whereas the pro version removes the same and unlocks some of the features as well. You can get the pro version at 44 INR (<1 USD). You may even get luckier if you get it at 10 INR on some special occasions. You should keep an eye out for it in case you do not plan to purchase it now.
Performance
Even if we take an example of a flashlight app, we need to make sure that the app performs well and is resource-friendly. In this case, My Alarm Clock performed extremely smooth and providing a good user experience visually as well. So, yeah, it is resource-friendly.
Features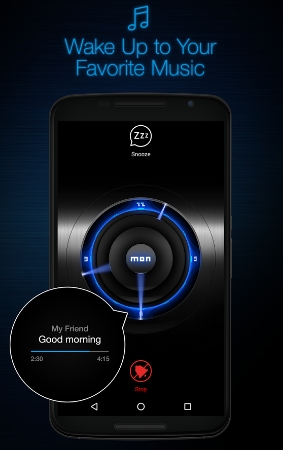 We now know that the app is resource-friendly and looks good as well. Now, we should be concerned about the features it offers. Whether it is worth purchasing or not?
My Alarm Clock offers several features which include:
Fade-in feature
Alarm Music
Dim feature
Weather Updates
Hand-picked Designer Collection of Clock Styles
Night Mode
Clock Widget
Flashlight
Sleep Timer
Let's get to know some of the interesting features among the above-mentioned points.
DIM Feature: What is it exactly?
Well, as the name suggests, you know what it means. But, do you know why is it needed for an alarm clock? Simply put, it is needed when you wake up early in the morning, if you DIM the alarm clock, your eyes won't hurt while checking out the time.
Clock Widget
My Alarm Clock lets you add a Clock widget on your home screen which seems to be useful.
Weather Condition
Why head to another app just to check out the weather condition? It's easy when it is within your reach. So, while you check out the time when you wake, you can instantly get to know about the weather as well.
Have you tried it yet? Do you know better alarm apps? Let us know your thoughts on the same in the comments below.
Download Aplon My Alarm Clock